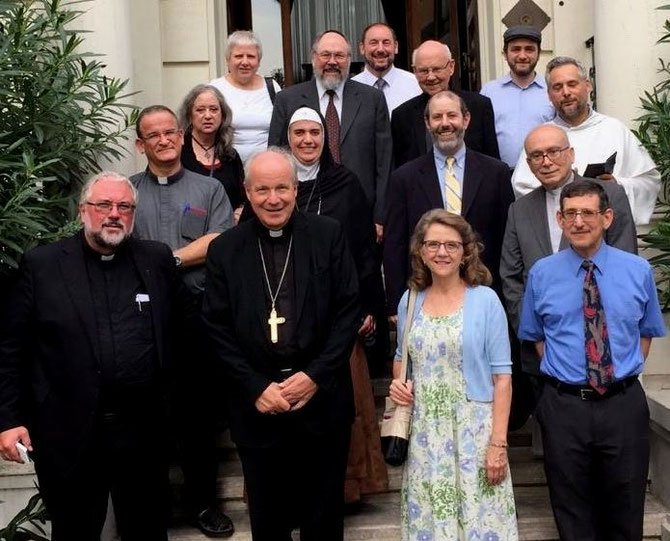 (Sept 2016) Meeting of informal dialogue group between Messianic Jews and Catholics with Cardinal Schonborn at the Irish pontifical council in Rome.  Mother Agnes Mariam was there (pictured in the middle), for many years she has been part of this dialogue group that seeks to find common ground in Christ and build bridges of friendship, faith.  
As our Savior prayed before his Passion and resurrection: "Holy Father, keep them in your name, which you have given me, that they may be one, even as we are one" (Jn 17:11).  And the prophet Hosea encourages us as well of a Jewish "return" to the true Messiah, son of David: "For the sons of Israel shall remain many days with no king and no ruler, and with no sacrifice, and no pillars, and no ephod or teraphim. Afterward the sons of Israel shall return and seek the LORD their God and David their king. And they shall fear the LORD and His goodness in the ends of the days" (Hosea 3:5).  

Our Lord told St Faustina: "Mankind will have no peace until it comes to adore my mercy".  The mercy of Jesus is for all people, without exception, "for sooner would heaven and earth cease to exist than God refuse a repentant sinner".  God will always have a special love for his people of "the covenant that was never revoked" as St John Paul II remarked, inspired by St Paul in Romans: "For the gifts and the calling of God are irrevocable" (Rom 11:29).

Amen, come Lord Jesus, show us your glory!