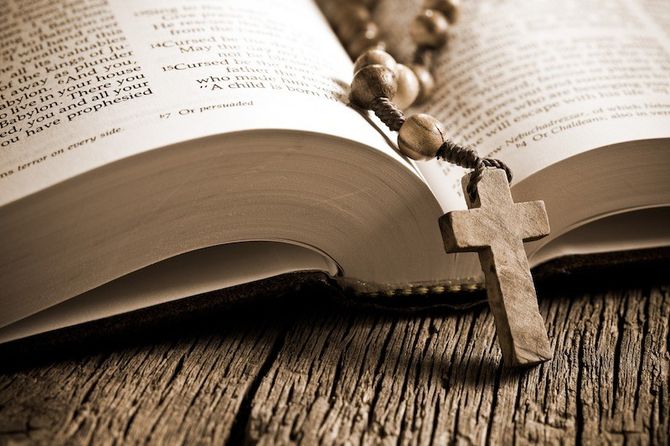 People often tell us, 'Read the Bible'. But how to start; with which book should we begin? What would be the proper inner attitude to have towards the Holy writ? A lot of things are hard to understand or just don't make any sense. I remember I had difficulties reading through the Bible from cover to cover the first time: the laws, the prophets, I couldn't make much of it. So we need a guide. And that guide is unmistakably the Holy Spirit. The words of the Lord are life and Spirit, they nourish us. But let's listen to what Mother Agnes Mariam has to say on how to read the Word of God.                                   
(Transcription of the introduction on the conferences on Genesis, Monday 21st of June 2010)

Eat the Word of God
"We call the Bible the 'Holy Word'.  For us, believers in Jesus Christ, this book was written by God.  All it contains is useful for our salvation.   It is the revelation of what God is, of how God acts, and of what God wants for us.  He has something to teach us, something we do not know.  That's why when we open this book we must open it kneeling down in our hearts:  He is the One talking, here and now.  There is always something miraculous in reading the Bible.  It's not necessary to understand, it's not even necessary to have an introduction because, as we are taught by life, reading the holy Word, we are taught by the Holy Spirit. 
So our main aim should be not to put any obstacles to the Holy Spirit:  it's what I call a 'global' or a 'heartfelt reading'.  We're not reading history, or biology, or chemistry,… We're eating the Word of God:  'Take and eat'—that is what the Lord says to Ezekiel, and to John in the book of Revelation.  'Take and eat'—assimilate what the Lord has revealed today in your life, assimilate it and accept it.  [Ez 3:3:  "And he said to me, "Son of man, feed your belly with this scroll that I give you and fill your stomach with it." Then I ate it, and it was in my mouth as sweet as honey."]
So we're not alone when we read the Holy Scriptures.  He is with us, He's behind us, before us, He is surrounding us; He is at our side, and He is inside of us—as we read.  That is why when we read the Holy Scriptures we have to subdue our intelligence to our faith and to our heart and take off our shoes, because the ground on which we stand is holy.  We should take a respectful position and be in a posture of adoration. 
The word of God is a living word.  Even though it has been written down 2,000 years ago, it survives today because it is living. The reading of the Bible is an appointment with the living God who delivers the living Word.   The living Word of the living God will give us life, if we want—it is a matter of transformation.  We eat and are transformed in what we eat.  It is a matter of living interaction".
Do not stick to the letter but enter into the Spirit
On another occasion she told us that it's not enough to stop at modern exegesis: when was the text written, by whom, in which style... "All this might be very necessary", she said, "Good to know, but it doesn't give us the meaning of the text. "When we look at a letter", she continued, "we do not want to know the kind of ink, the kind of paper; we want to know the message.  Imagine your mother or father, who after 30 years without any contact, writes you a letter and all you do is examine the ink, the stamp and the kind of paper…"
The Bible teaches us how to fight temptations
Studying Bible verses by heart is helpful to fight temptations. The  following verses, collected after listening to a conference of the American pastor Johnny Piper are especially helpful:
In times of anxiety and affliction:
 

Ps 34:19 "Many are the afflictions of the righteous, but the LORD delivers him out of them all".




 

Ps 23:4 "Even though I walk through the valley of the shadow of death, I will fear no evil, for you are with me; your rod and your staff, they comfort me".




Rm 5:3-5 "We rejoice in our sufferings, knowing that suffering produces endurance, and endurance produces character, and character produces hope, and hope does not put us to shame, because God's love has been poured into our hearts through the Holy Spirit."



In times of anxiety about feeling useless in life:


 

1Co 15:58  "Therefore, my beloved brothers, be steadfast, immovable, always abounding in the work of the Lord, knowing that in the Lord your labor is not in vain."
In times of anxiety about being weak


2Co 12:9 "But he said to me, "My grace is sufficient for you, for my power is made perfect in weakness." Therefore I will boast all the more gladly of my weaknesses, so that the power of Christ may rest upon me.

Psa 34:4  "I sought the LORD, and he answered me and delivered me from all my fears."
"Then Jesus was led up by the Spirit into the wilderness to be tempted by the devil. And after fasting forty days and forty nights, he was hungry. And the tempter came and said to him, "If you are the Son of God, command these stones to become loaves of bread." But he answered, "It is written, "'Man shall not live by bread alone, but by every word that comes from the mouth of God.'" (Mat 4:1-4) We should use Jesus's tactics in countering temptations. How does He counter them? By using the word of God.

Lord Jesus, open our hearts to understand the Scriptures, make them sink down in our everyday lives. Have the Scriptures become our first and native language. Make us like Ezra on whom rested your good hand, "for Ezra had set his heart to study the Law of the LORD, and to do it and to teach his statutes and rules in Israel." (Ez 7, 9-10) Amen.